Children identified with type 1 diabetes through a public health screening program tend to have a less severe form of the disease when symptoms emerge.
The Fr1da study group, based in Germany, aimed to see if diagnosing type 1 diabetes in children before they showed symptoms, and providing education and monitoring, could make the condition less severe when symptoms eventuated. Researchers compared two groups: one previously diagnosed early with screening (the Fr1da group), with one diagnosed without screening (often in DKA or ketoacidosis meaning life threateningly high blood sugar levels due to a lack of insulin production).
The screened group had better outcomes at the onset of clinical type 1 diabetes. This exhibited as lower blood sugar levels, lower doses of insulin, and fewer cases of severe diabetic ketoacidosis (DKA). An important observation was the higher fasting C-peptide concentrations and reduced need for insulin therapy in the Fr1da cases, indicating a higher beta cell reserve. 

Their findings suggests that early diagnosis, with proactive education and monitoring, can make a significant difference in how children experience the onset of type 1 diabetes.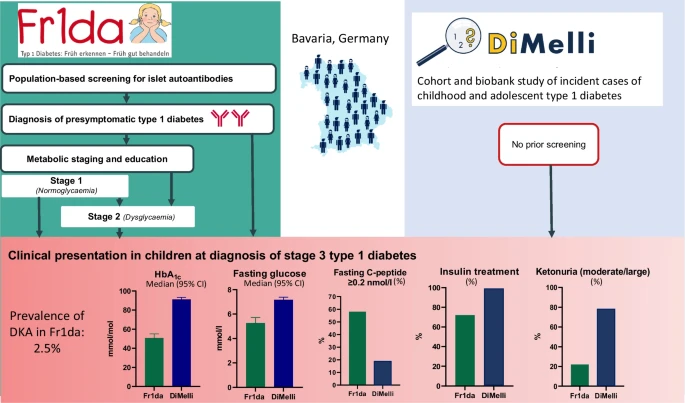 The paper is available at: https://doi.org/10.1007/s00125-023-05953-0